Hub 11in1 Baseus EliteJoy Gen2 series USB-C to 3xUSB 3.0 + USB 2.0 + USB-C PD + USB-C + RJ45 + HDMI + jack 3.5mm + SD/TF (gray)
Make your computer work easier and more powerful. The 11in1 Baseus EliteJoy Gen2 hub is equipped with up to 11 ports – 3x USB 3.0, 3.5mm audio, USB-C for data transfer, USB-C for charging, SD card slot, TF card slot, RJ45, HDMI and VGA. It can also serve as a practical laptop stand. It can transfer files at speeds of up to 500MB/s and offers high quality 4K video. It also supports PD 100W fast charging and stands out for its wide compatibility.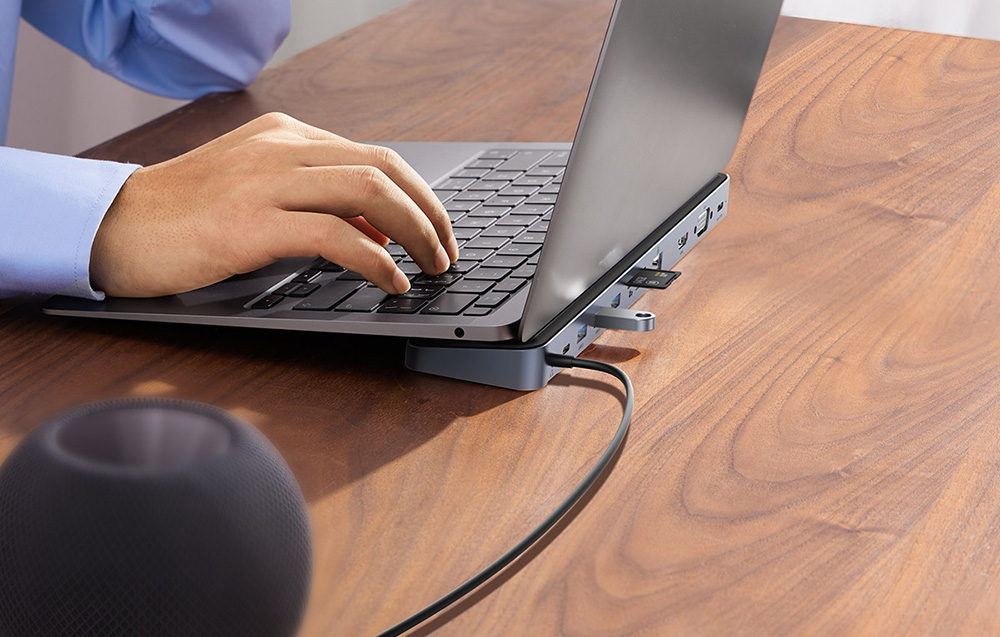 Laptop stand
Enjoy more comfort while working at your computer. The hub is inclined at an 8° angle and is designed to function as a laptop stand. What's more, the product is covered with high-quality silicone, so it will provide your device with the necessary stability and protect it from scratches. With Baseus, using your computer becomes more enjoyable!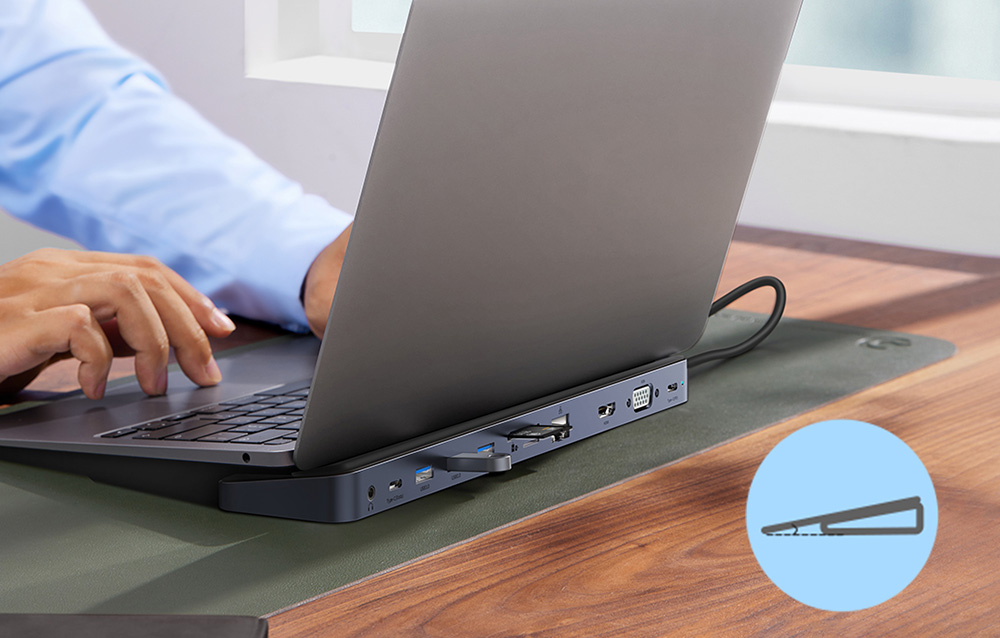 Excellent image quality
Enjoy fantastic image quality. The hub offers an HDMI port that supports 4K resolution at a refresh rate of up to 30Hz. You also have a VGA port at your disposal. So using the product, you can, for example, connect additional monitors to your laptop and get more convenience while working. There are also various display modes, for example, Mirroring and Extension. What's more, the hub allows you to enjoy high 4K image quality even when you use more displays.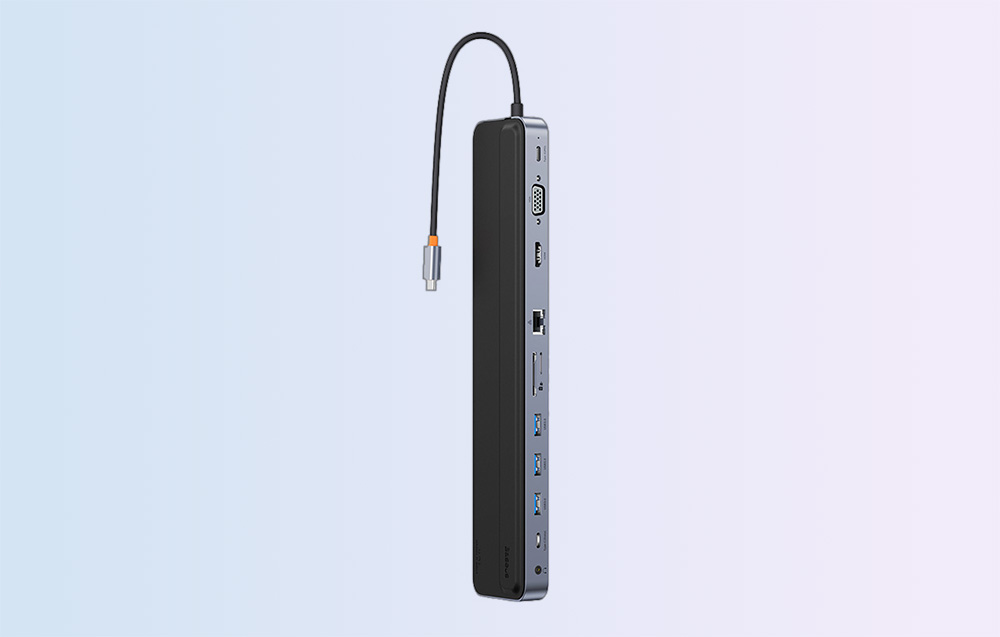 Fast file transfer
Do you often transfer files between devices? The Baseus EliteJoy Gen2 hub will help you with that! The device is equipped with 3 USB 3.0 ports and a USB-C port for data transfer. All 4 offer transfer speeds of up to 5Gbps (500MB/s)! This means that it only takes about 3 seconds to transfer 1GB of files. Now all the photos, videos or documents you need will be at their destination in no time – no more prolonged waiting!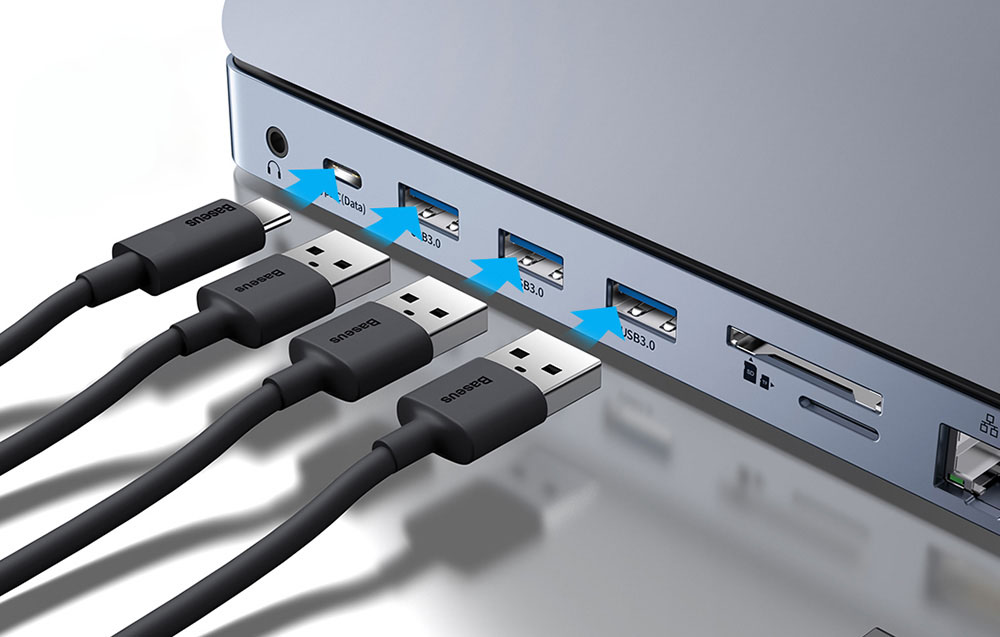 Fast charging
Don't worry about your laptop unexpectedly discharging while you're working. The Baseus EliteJoy Gen2 hub will allow you to avoid this! The product offers an additional USB-C port that supports PD 100W fast charging. All you need to do is plug the power adapter into it! Thus, you will charge your laptop in a short period of time and gain confidence that it will not refuse to serve you at the least opportune moment.
Hassle-free use of the Internet
Your work requires almost uninterrupted use of the Internet? Or maybe you just often spend a lot of time online? With Baseus hub it will become even more pleasant! The product is equipped with an Ethernet port that supports transmission speeds of up to 1000Mbps. Thanks to this you can easily watch movies, play games and download files. Forget about endlessly dragging loading or buffering!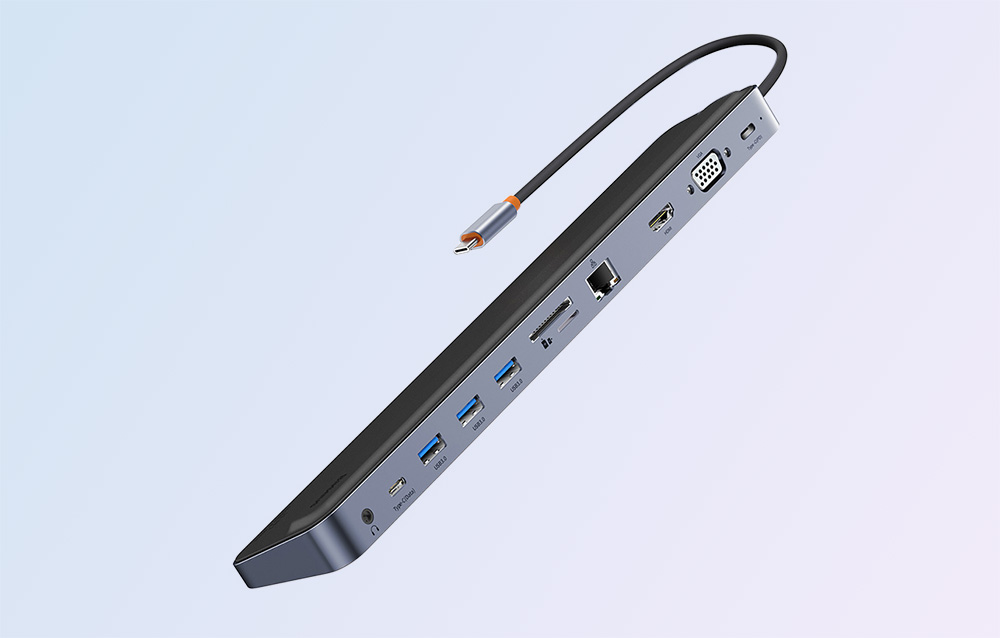 Slots for memory cards
The hub will also allow you to conveniently use SD and TF memory cards – it has been equipped with corresponding slots. Here, too, you can enjoy fast file transfer – the offered transfer speed reaches up to 104MB/s. Find out how little time it takes to transfer all the necessary photos, music or videos! This is an excellent option for photographers and graphic designers, among others.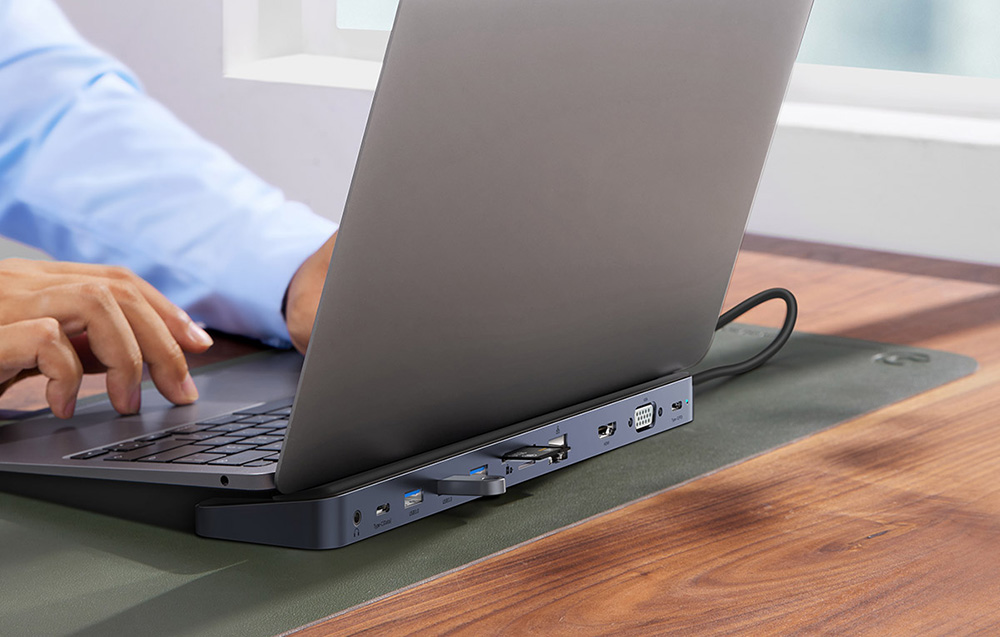 Additional amenities
Your laptop doesn't have an audio output, but you want to connect a speaker or headphones to it? With the Baseus hub this is no longer a problem – the device offers a universal 3.5mm port. So you can turn on your favorite playlist and make your work more pleasant! The product also ensures the safety of use. It is equipped with reliable protection against short circuit, overvoltage and overcurrent, so you do not have to worry about damaging it.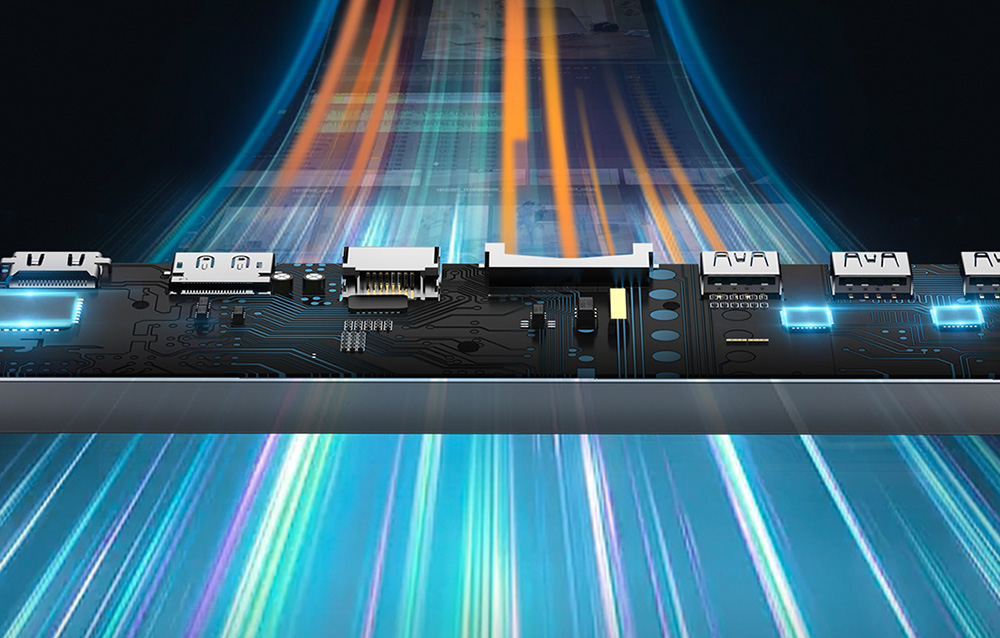 Wide compatibility
Forget about compatibility problems. The hub works perfectly with Windows, Linux and Mac OS operating systems. What's more, it supports Plug&Play, which means that you simply plug it into the device of your choice – no need to waste time installing drivers. The product is compatible with many laptops, tablets and smartphones from well-known brands such as Apple, Xiaomi, Huawei, Samsung and Lenovo, for example.
Specification
| | |
| --- | --- |
| Brand | Baseus |
| Name | EliteJoy Gen2 11-Port Type-C HUB Adapter |
| Model | WKSX030013 |
| Colour | Grey |
| Available ports | 3x USB 3.0, 3.5mm audio, USB-C for data transfer, USB-C for charging, SD card slot, TF card slot, RJ45, HDMI, VGA |
| Connector | USB-C |
| Transfer speeds (USB 3.0, USB-C) | Up to 500MB/s |
| Charging power (USB-C PD) | 100W max. |
| Video resolution (HDMI) | 4K @ 30Hz max. |
| Video resolution (VGA) | 1080p @ 60Hz |
| Transfer rate (SD / TF card slots) | Up to 104MB/s |
| Transfer rate (RJ45) | Up to 1000Mbps |
| Headphone / speaker connectivity | Yes (3.5mm audio port) |
| PD input | 5V / 3A, 9V / 3A, 15V / 3A, 20V / 5A |
| USB output | 5V / 0.9A |
| Supported operating systems | Windows, Mac OS, Linux |
| Material | Aluminium alloy + silicone |
| Weight | Approx. 267g |
| Dimensions | 58x280mm |
| Cable length | 250mm |